Free UK Shipping
On Orders £30+. Next Day on Orders £80+
Same Day Dispatch
Weekday Orders Placed Before 3pm
Free Returns
100% Satisfaction Guaranteed
Lifetime Support
With Extended Warranties
Free UK Shipping
On Orders £30+. Next Day on Orders £80+
Same Day Dispatch
Weekday Orders Placed Before 3pm
Lifetime Support
With Extended Warranties
External Turbo CO2 Reactor For 12/16mm Hose
£33.99
External Turbo CO2 Reactor - for 12/16mm Hose

Key Facts
Suitable for 12mm/16mm tubing (12mm internal / 16mm external). Click here for tubing size advice
CO2 is trapped inside the reactor so it cannot escape, achieving 100% CO2 diffusion.
Uses an impeller to quickly mix the CO2 into the water.
Detachable mounting bracket.
Can be attached to aquarium or screwed to wall or cabinet.
Description
External Turbo CO2 Reactor for planted aquariums. Achieves 100% CO2 diffusion by trapping CO2 at the top of the reactor chamber and using twin impellers to diffuse the CO2 with the aquarium water. The integrated compression fittings for the filter and CO2 tubing ensure that there is no possibility of the tubing detaching.
The detachable mounting bracket gives the option of attaching the unit to either the inside or outside of the aquarium using suction cups, or it can be screwed to a wall or cabinet.
Instructions
Reactors are installed on the return / outflow tubing from a filter as the water is reintroduced to the aquarium.
Cut or replace your filter tubing with PVC tubing.
Attach filter tubing to corresponding inlet/outlet of the reactor.
Connect CO2 supply to CO2 inlet of the reactor.
Turn filter and CO2 on and allow reactor to fill with water.
Invert (turn upside down) the reactor to eject any trapped air.
Adjust CO2 rate until desired level of dosing is achieved.
Customer Reviews
Average Rating
Individual Reviews
Photo Viewer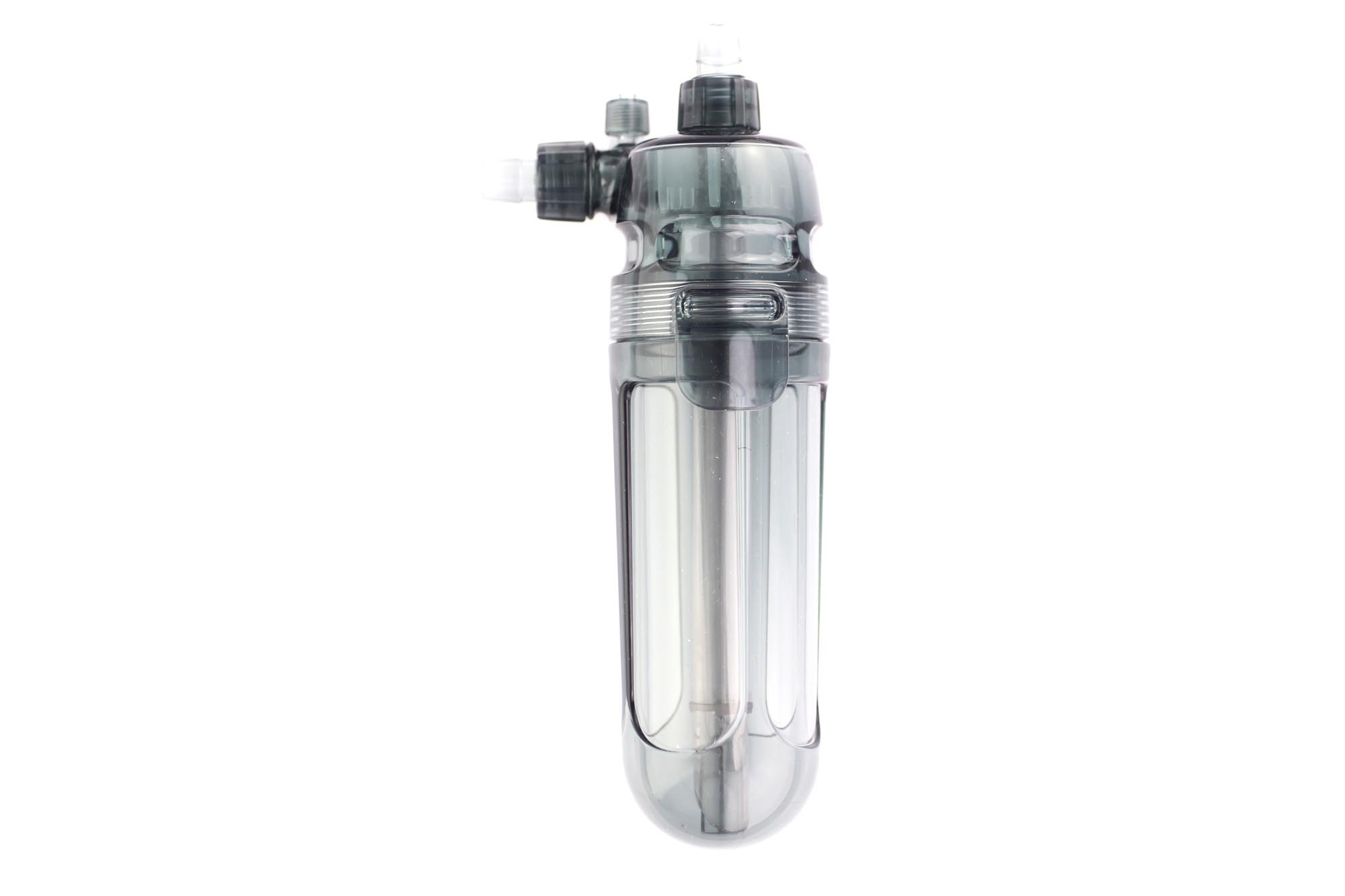 click image to view full screen