Free UK Shipping
On Orders £30+. Next Day on Orders £80+
Same Day Dispatch
Weekday Orders Placed Before 3pm
Free Returns
100% Satisfaction Guaranteed
Lifetime Support
With Extended Warranties
Free UK Shipping
On Orders £30+. Next Day on Orders £80+
Same Day Dispatch
Weekday Orders Placed Before 3pm
Lifetime Support
With Extended Warranties
SodaStream Cylinder Refilling Adapter
System Customisation
£13.49
'Easy Refill' SodaStream Valve

£1.99
SodaStream Adapter Seal / Washer (2 pack)

Key Facts
Safely refill SodaStream cylinders from a larger donor cylinder.
Connect to DIN 477 / W21.8 / BS 341 No. 8 or CGA 320 donor/parent cylinders.
Refill SodaStream cylinders used in UK / USA / Europe (Rest of World), or in Australia / New Zealand.
Works on *all* types of SodaStream cylinder valve, including the 'booby-trapped' model which supposedly prevent refilling.
SodaStream isolation feature for safe removal of cylinder.
Dump / purge valve for safe and controlled release of gas.
Integrated pressure gauge for safety and display of donor cylinder pressure.
On / off knob for controlled release.
Highest possible quality design and manufacture.
Description
Our SodaStream Cylinder Refilling Adapter gives you the freedom and ability to refill your SodaStream cylinders at a fraction of the price you pay for exchanging at a retailer. The refilling adapter is used to safely refill SodaStream cylinders from larger donor cylinders. It is designed to connect to either a CGA 320 or DIN 477 / W21.8 / BS 341 No. 8 donor cylinder, and then connect either directly to the SodaStream cylinder or via a optional high pressure hose as shown in the product photos.
Customer safety is always our primary consideration when designing new products, which is why our refilling adapter includes a pressure gauge to ensure the pressure of the donor cylinder will not exceed the pressure specification of the recipient cylinder, a on/off knob for easy and direct control of the refilling process, and a dump / purge valve to eject the residual gas within the connection between donor and recipient cylinder once refilling is complete.
Instructions
Connect the refill adapter to the parent / donor cylinder.
Screw the SodaStream adapter into the refill adapter.
Screw the SodaStream cylinder into the adapter.
Open the valve on the parent / donor cylinder to release the gas.
Turn the shutoff valve to release the gas.
Turn the knob of the SodaStream valve to inject gas into the cylinder.
You will hear gas flowing into the cylinder. Refilling takes roughly 30 seconds.
Once refilling is complete, stop the CO2 by turning the shutoff valve.
Isolate the SodaStream cylinder by turning the adjuster knob.
Release the residual gas by opening the dump / purge valve.
Remove the SodaStream cylinder from the adapter.
Repeat the refill process for each SodaStream cylinder.
Once finished, close the valve on the parent / donor cylinder.
Customer Reviews
Average Rating
Individual Reviews
See more reviews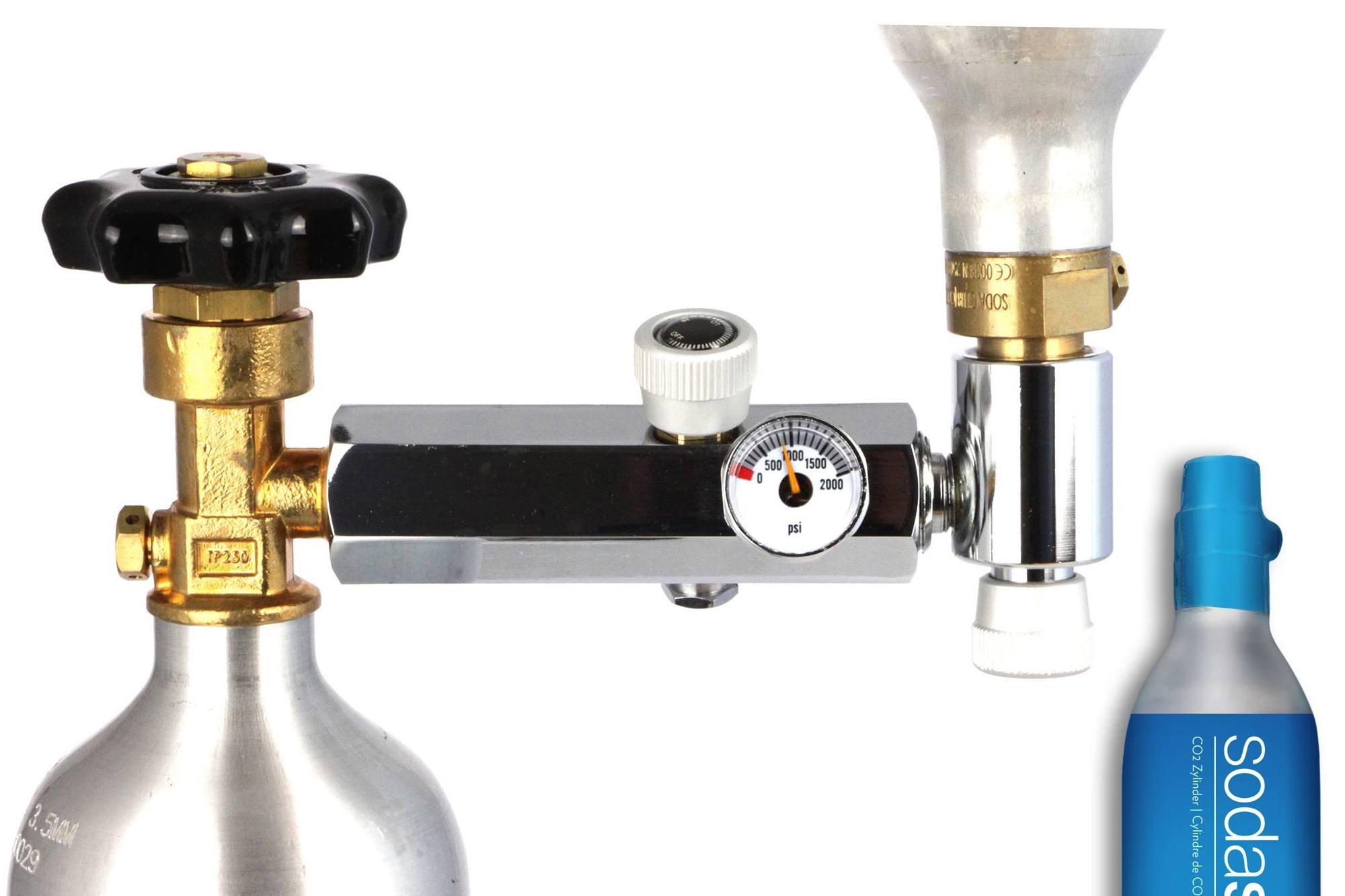 click image to view full screen
Photo Gallery