Free UK Shipping
On Orders £30+. Next Day on Orders £80+
Same Day Dispatch
Weekday Orders Placed Before 3pm
Free Returns
100% Satisfaction Guaranteed
Lifetime Support
With Extended Warranties
Free UK Shipping
On Orders £30+. Next Day on Orders £80+
Same Day Dispatch
Weekday Orders Placed Before 3pm
Lifetime Support
With Extended Warranties
Homebrew Keg CO2 Regulator With Dual Gauges & Adjustable Output Pressure
£59.99
Homebrew Keg CO2 Regulator with Dual Gauges & Adjustable Output Pressure

£11.99
S30 Valve Hambleton Bard Connector

£2.49
Tubing for S30 Connector

Key Facts
High quality design and manufacture.
Adjustable output / working pressure.
1/4" barbed spigot output.
Dual pressure gauges indicating cylinder pressure and output working pressure.
Industry standard nut, compatible with DIN 477 / BS 341 No. 8 / JIS m22-14 / W21.8-14 / .860" x 1/14 (covers UK, Europe and Asia).
Note: Does not have a solenoid.
Description
The Single stage regulator with adjustable pressure will reduce the high pressure of a CO2 cylinder to a lower and usable pressure. The ability to adjust the working/output pressure ensures the regulator will be able to meet the needs of any homebrew enthusiast. Comes with 1/4" barbed spigot output for easy tube connection.
Dual pressure gauges indicate the cylinder pressure and the adjustable output / working pressure.
Instructions
Tighten the regulator to your CO2 cylinder using a spanner or wrench. Do not use your hands to tighten, it will not create sufficient seal and be likely to leak.
Set the output pressure to minimum by turning the pressure adjuster knob fully anticlockwise.
Close the needle valve by turning fully clockwise.
Open the flow of gas from your CO2 cylinder.
The cylinder pressure gauge will now indicate the pressure of the cylinder.
Turn the pressure adjuster clockwise until your desired output pressure is set.
Customer Reviews
Average Rating
Individual Reviews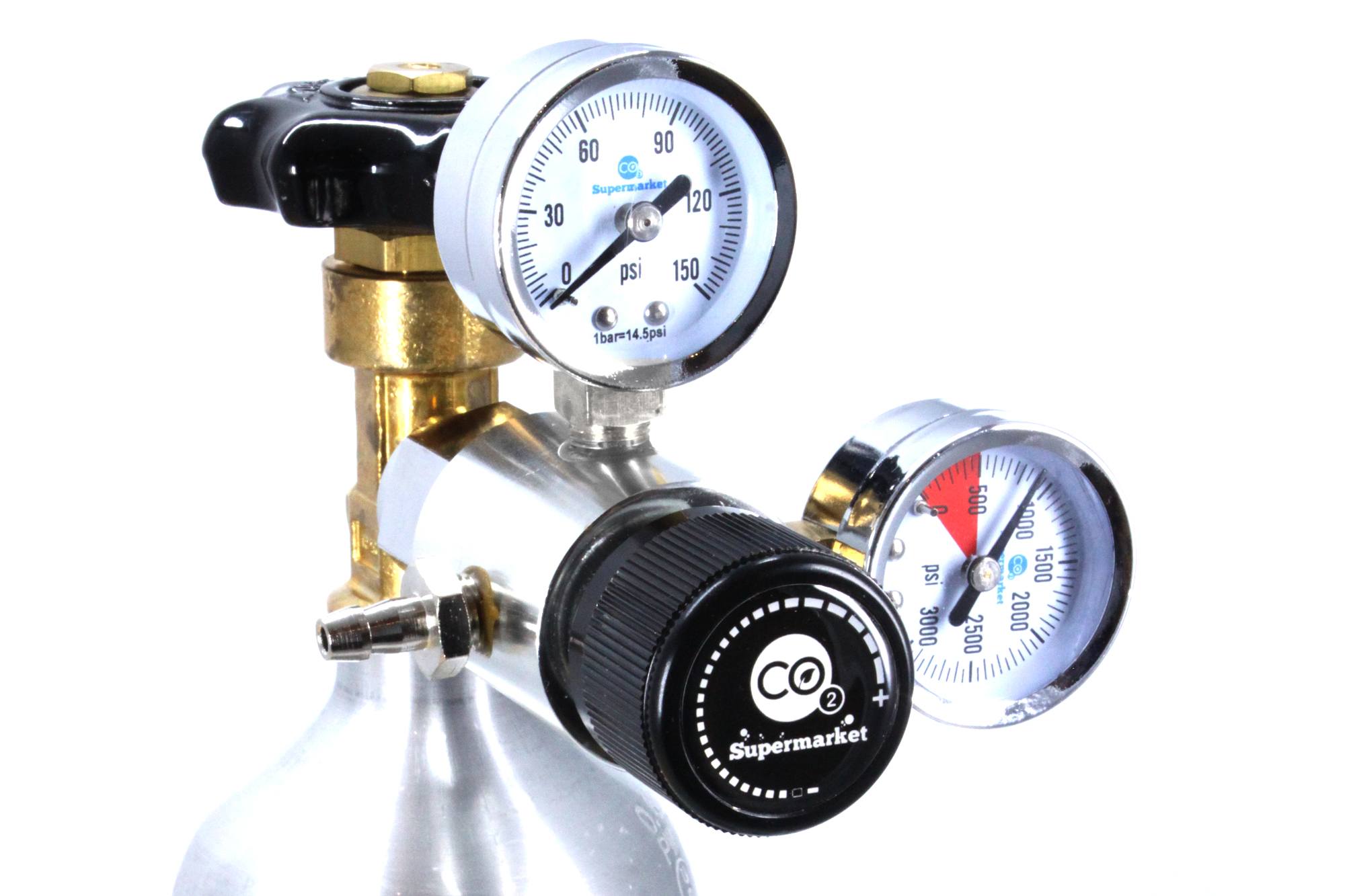 click image to view full screen
Photo Gallery