Free UK Shipping
On Orders £30+. Next Day on Orders £80+
Same Day Dispatch
Weekday Orders Placed Before 3pm
Free Returns
100% Satisfaction Guaranteed
Lifetime Support
With Extended Warranties
Free UK Shipping
On Orders £30+. Next Day on Orders £80+
Same Day Dispatch
Weekday Orders Placed Before 3pm
Lifetime Support
With Extended Warranties
Nano CO2 Regulator With Solenoid Magnetic Valve And Adjustable Output Pressure
Key Facts
Perfect for nano or small aquariums.
Highest quality design and manufacture.
Adjustable output pressure 0-8 bar to meet the needs of any aquarium (20L - 500L).
12v Solenoid magnetic valve allows for CO2 to be switch on/off at defined times. Mains transformer included.
High-precision needle valve for ultimate dosing control as low as 1 bubble / 10 seconds.
Pressure gauge displaying output / working pressure.
Connects to nano CO2 cartridges with 5/8"-18 UNF thread (typically 88g and 95g cartridges).
Works with any CO2 diffuser.
Choice of plug and voltage.
Description
Our Nano CO2 regulator has been designed specifically to meet the needs of small / nano aquariums which typically require lower levels of CO2 dosing.
The regulator features adjustable output pressure to ensure it will meet the pressure requirements needed to run the best CO2 diffusers. It also features a high-precision needle valve which enables incredibly fine adjustment of CO2 dosing as low as 1 bubble every 10 seconds. The integrated solenoid magnetic valve enables the CO2 flow to be shut off overnight when the aquarium plants are not photosynthesising; this means you are not wasting CO2 by dosing when it's not needed, this in turn means your CO2 supply will last much longer and save money in the long-term. The 12v DC solenoid (mains transformer included) provides safe, low temperature, and guaranteed no noise operation.
It also has a pressure gauge that displays the output / working pressure, which can be adjusted by means of the pressure adjuster knob. The regulator attaches to mini CO2 cartridges with thread standard of 5/8"-18 UNF (also sold by CO2 Supermarket).
Instructions
Set the output pressure to minimum by turning the pressure adjuster knob fully anticlockwise.
Close the needle valve by turning fully clockwise.
Screw CO2 cartridge into the regulator. You may feel some resistance as the pin inside the regulator pierces the top of the CO2 cartridge to release the gas. Once the cartridge is screwed in, it should not be removed until all gas has been used.
Position the CO2 cartridge in the base/holder. The base has a sticky pad underneath, which can be used to provide additional support if needed.
Plug the solenoid into mains plug and switch on.
Turn the pressure adjuster clockwise until the pressure gauge reads 0.3 MPa (roughly 40 PSI). This is a good starting point for most CO2 diffusers. It can be increased if necessary.
With the bubble counter attached, turn the needle valve anticlockwise to achieve the bubble rate desired. 1 bubble / second is suitable for a 150L aquarium - adjust your dosing in accordance to this, i.e. 1 bubble / 2 seconds for 75L aquarium.
Customer Reviews
Average Rating
Individual Reviews
See more reviews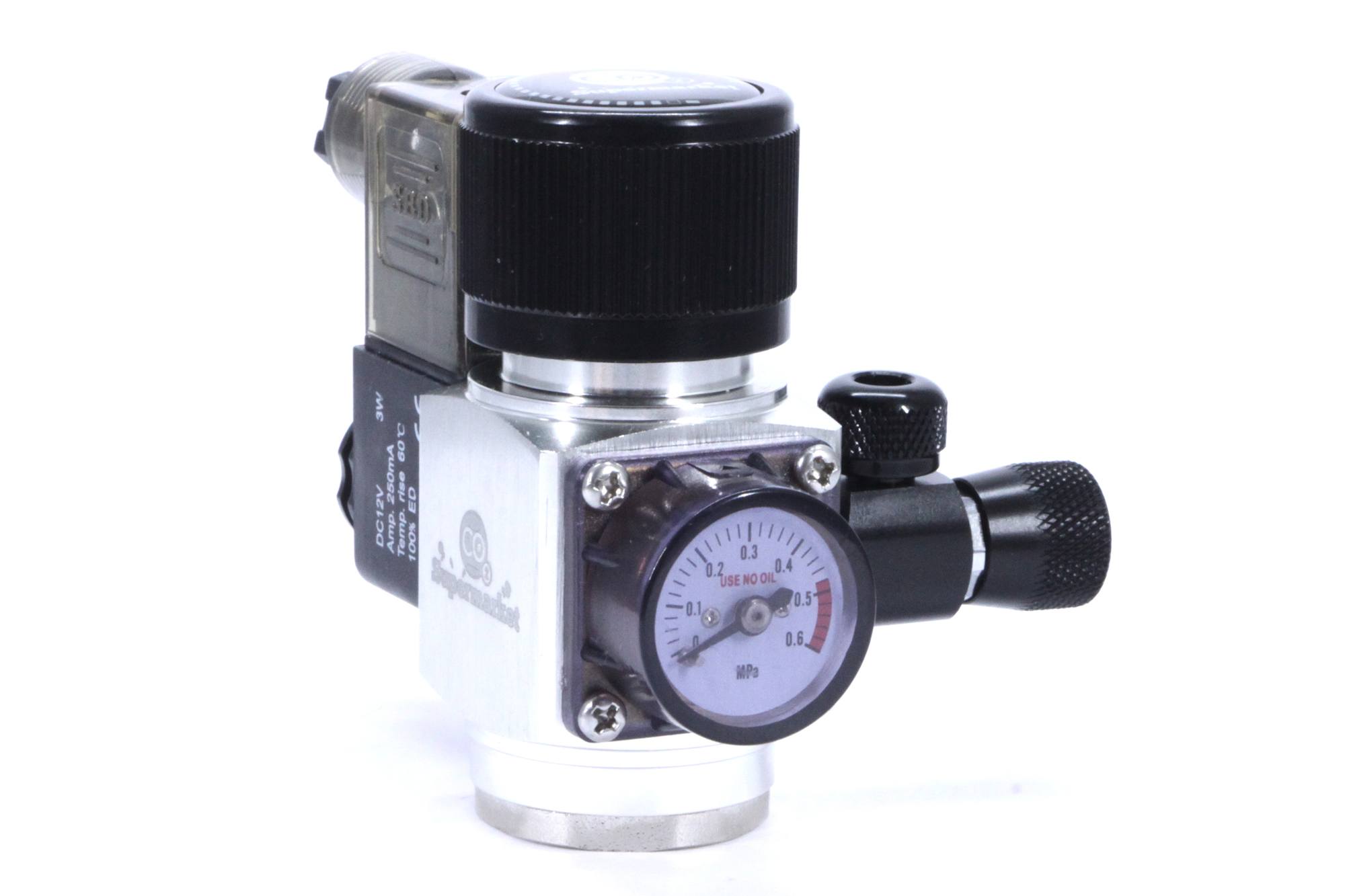 click image to view full screen
Photo Gallery