Free UK Shipping
On Orders £30+. Next Day on Orders £80+
Same Day Dispatch
Weekday Orders Placed Before 3pm
Free Returns
100% Satisfaction Guaranteed
Lifetime Support
With Extended Warranties
Free UK Shipping
On Orders £30+. Next Day on Orders £80+
Same Day Dispatch
Weekday Orders Placed Before 3pm
Lifetime Support
With Extended Warranties
Single Stage CO2 Regulator With Solenoid, Dual Gauges & Adjustable Output Pressure
Key Facts
Highest quality design and manufacture.
Adjustable output pressure 0-8 bar to meet the needs of any aquarium (20L - 3000L).
12v DC Solenoid magnetic valve allows for CO2 to be switch on/off at defined times. Mains transformer included.
High precision needle valve for ultimate dosing control.
Output can be adjusted to enable use with horizontal or vertical CO2 cylinder valves.
Dual pressure gauges display input pressure and output working pressure.
Industry standard nut, compatible with DIN 477 / BS 341 No. 8 / JIS m22-14 / W21.8-14 / .860" x 1/14 (covers UK, Europe and Asia).
Works with any CO2 diffuser.
Description
The Single stage regulator with adjustable pressure will reduce the high pressure of a CO2 cylinder to a lower and usable pressure for use in the aquarium. The ability to adjust the working/output pressure ensures the regulator will be able to meet the needs of any aquarium requirements; whether that is operating a single CO2 diffuser, or multiple diffusers, this regulator can be adjusted to deliver the pressure that's needed.
A high-precision needle valve is fitted as standard, which gives you easy and incredibly accurate control of CO2 dosing. As a result, the regulator is suitable for small/nano aquariums as the bubble rate (dose) can be reduced as low as 1 bubble / 10 seconds.
Because the needle valve can rotate, the regulator can be used with either horizontal or vertical cylinder valves. The stem/nut can also be removed and can then connect to nano cartridges, making the regulator suitable for nano aquariums, and much larger aquariums.
The integrated solenoid valve provides the ability to automatically shut off the CO2 at timed intervals, e.g. to sync with the aquarium lighting. This ensure CO2 is not being dosed when it's not needed, and will therefore extend the lifespan of your CO2 cylinder and save money. The 12v DC solenoid (mains transformer included) provides safe, low temperature, and guaranteed no noise operation.
Dual pressure gauges indicate the cylinder pressure and the output / working pressure.
Instructions
Tighten the regulator to your CO2 cylinder using a spanner or wrench. Do not use your hands to tighten, it will not create sufficient seal and be likely to leak.
Set the output pressure to minimum by turning the pressure adjuster knob fully anticlockwise.
Close the needle valve by turning fully clockwise.
Plug the solenoid into a mains socket and switch on.
Open the flow of gas from your CO2 cylinder.
The cylinder presure gauge will now indicate the pressure of the cylinder. Turn the pressure adjuster clockwise until it reads 40PSI, which is a good starting point for a single diffuser installation.
With the bubble counter attached, turn the needle valve anticlockwise to achieve the bubble rate desired. 1 bubble / second is suitable for a 150L aquarium - adjust your dosing in accordance to this, i.e. 2 bubble / second for 300L aquarium.
Customer Reviews
Average Rating
Individual Reviews
See more reviews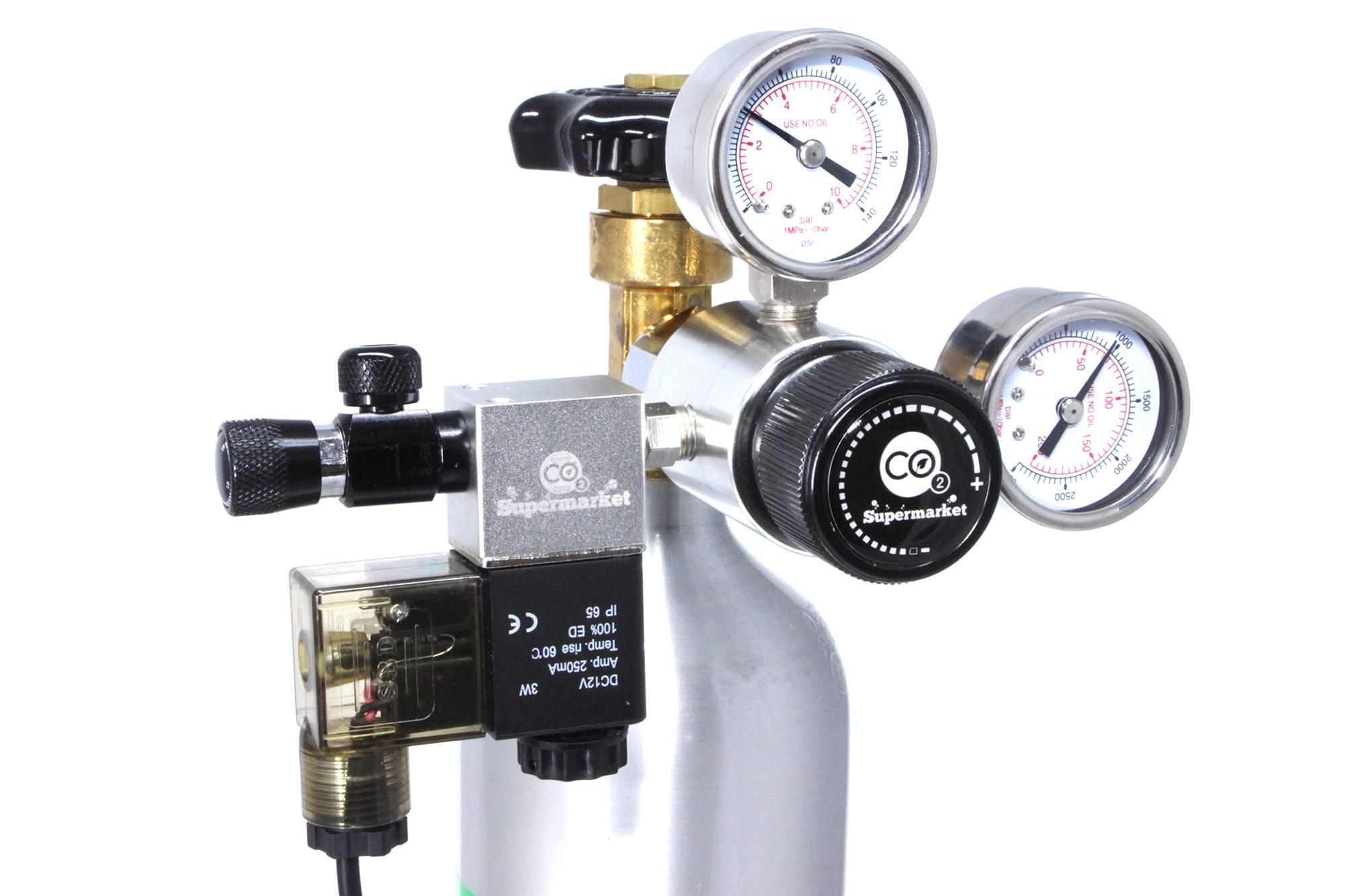 click image to view full screen
Photo Gallery