Free UK Shipping
On Orders £30+. Next Day on Orders £80+
Same Day Dispatch
Weekday Orders Placed Before 3pm
Free Returns
100% Satisfaction Guaranteed
Lifetime Support
With Extended Warranties
Free UK Shipping
On Orders £30+. Next Day on Orders £80+
Same Day Dispatch
Weekday Orders Placed Before 3pm
Lifetime Support
With Extended Warranties
WEIPRO PH CO2 Controller For Planted Aquariums
Key Facts
Includes control unit, pH electrode, calibration solution, and electrode suction clips.
Constant monitoring of aquarium pH.
Automatic control of your CO2 dosing.
Removes the guess work out of the time your CO2 should be on.
Eliminates the possibility of overdosing your aquarium with CO2.
Suitable for 230v-240v AC.
Accuracy: +/- 0.01pH
Description
Using the pH Controller you can put your CO2 deployment on auto-pilot, and only dose CO2 into your aquarium as and when it's needed.
The pH Controller constantly checks the pH of your aquarium water, so that when the pH increases, it switches on the plug, which your solenoid regulator is plugged into. That turns on the flow of CO2 which lowers the pH of the water. When the pH reaches your target level, it turns the solenoid off.
A pH Controller will also ensure that you don't 'overdose' your aquarium with CO2, either by using a timer plug an accidentally setting it on for too long, or 'end of tank dump'. It also means you only dose CO2 when it's needed, and therefore use less CO2 than you might otherwise. A pH Controller will therefore eventually pay for itself in saved CO2 refills.
Package Contents
pH Controller Unit
pH 7.0 Buffer Solution
Electrode
Instructions
Connect the pH electrode to pH terminal.
Connect your CO2 solenoid regulator (not included) to the controller plug.
Connect the AC power (230V~50/60Hz).
Slide switch to 'SET'.
Using the plastic screwdriver provided, adjust the "SET" knob until it reads the pH you want your aquarium to maintain.  Most freshwater tropical plants like a pH of 6.5 - 6.8.
Slide switch to 'PH'.
Pour pH 7 buffer solution into the electrode receptacle so it is half-full.
Insert the pH electrode into the buffer receptacle.
Adjust the "CAL/PH7" knob with the plastic screwdriver until the display reads "7.00". The device is now calibrated.
Put the pH electrode in the aquarium water, ensuring cap of electrode is above the water level.
The controller will switch on the CO2 when the pH climbs ~0.1 above your desired pH.  It will remain switched on until the pH drops ~0.1 below your desired pH.
You may wish to check the pH7 calibration every couple of months to ensure accurate operation.
Customer Reviews
Average Rating
Individual Reviews
See more reviews

Photo Viewer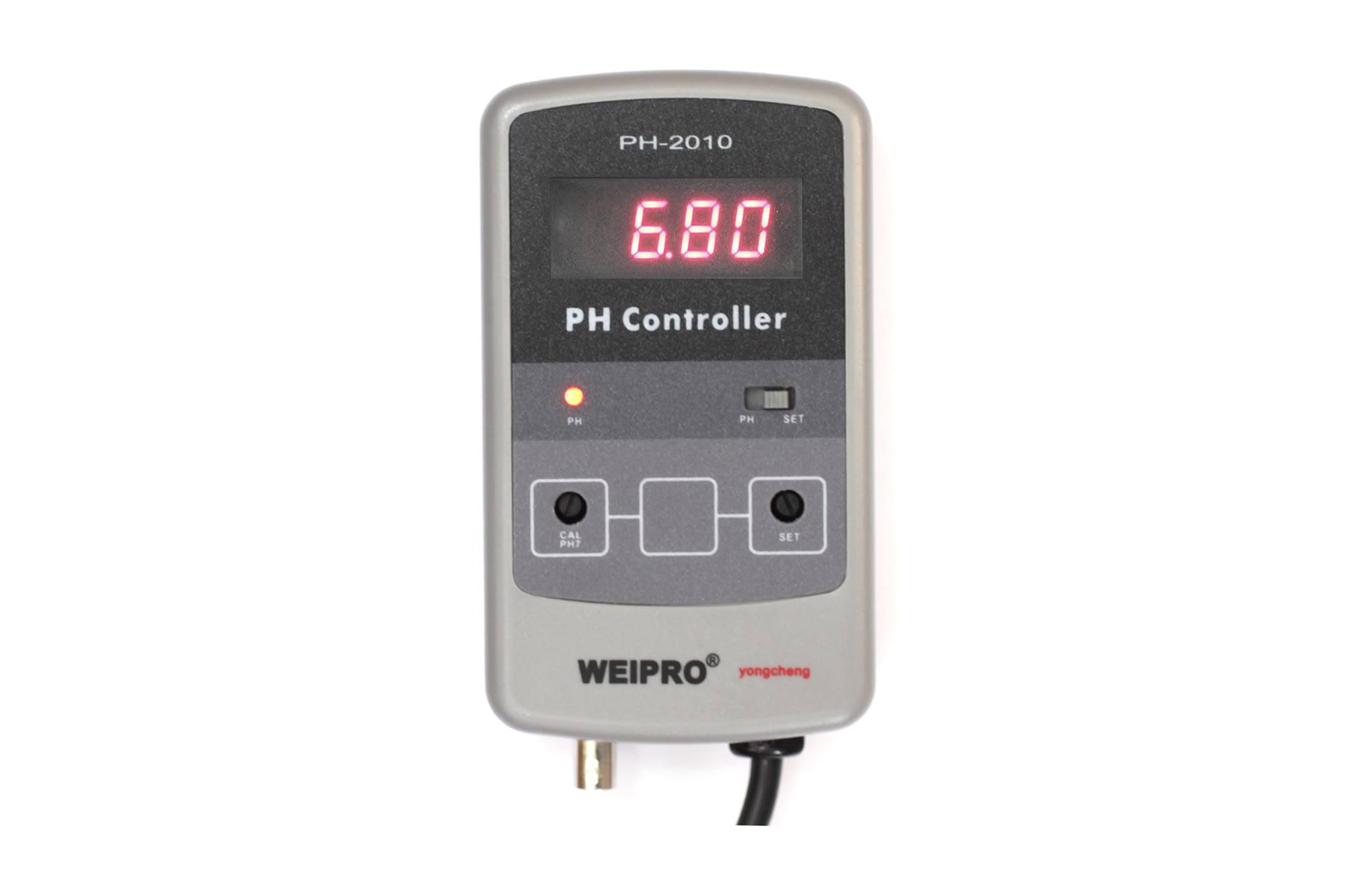 click image to view full screen
Photo Gallery