Free UK Shipping
On Orders £30+. Next Day on Orders £80+
Same Day Dispatch
Weekday Orders Placed Before 3pm
Free Returns
100% Satisfaction Guaranteed
Lifetime Support
With Extended Warranties
Free UK Shipping
On Orders £30+. Next Day on Orders £80+
Same Day Dispatch
Weekday Orders Placed Before 3pm
Lifetime Support
With Extended Warranties
CO2 Bubble Counter & Integrated Check Valve For Regulators
£10.99
Regulator CO2 Bubble Counter With in-built Check Valve

Key Facts
Essential component of any CO2 system.
Accurately monitor and adjust your CO2 dosing.
Attaches directly to a regulator's needle valve.
In-built check valve prevents water siphon / back-flow.
Fits 4/6mm Tubing.
1/8" NPT female thread.
Easy viewing of bubbles.
Description
A bubble counter is an essential component of a CO2 system. Without one you would simply be guessing at the quantity of CO2 you are dosing into your aquarium, and that makes accurately setting and adjusting your CO2 dosing impossible. A bubble counter solves this problem by enabling you to count how many bubbles per minute you are dosing, and can then make accurate refinements.
The bubble counter also has an in-built check valve to prevent water siphoning from your aquarium and into your sensitive (and expensive) components such as solenoid or regulator. Once water has entered these components it is difficult to remove, and can cause complete blockage or inconsistent output. Therefore, eliminating the possibility of that from occurring is essential.
This bubble counter screws directly onto the needle valve of your regulator. The tubing attaches to the opposite end.
The bubble counter must be vertical to allow the bubbles to float upward - please therefore ensure your regulator/needle valve will allow this configuration when attached to your gas cylinder. If not, an Inline Bubble Counter can be used instead, which has tube connection fittings at each end.
Instructions
Unscrew the top cap and fill 3/4 with water (tap water is fine).
Firmly screw the top back on.
Ensure O-ring is correctly position at the bottom of the threads in the well at the bottom of the bubble counter.
Screw the bubble counter onto the needle valve.
Unscrew the compression collar from the top of the bubble counter.
Feed tubing through the collar and firmly tighten to hold the tubing in place.
Customer Reviews
Average Rating
Individual Reviews
See more reviews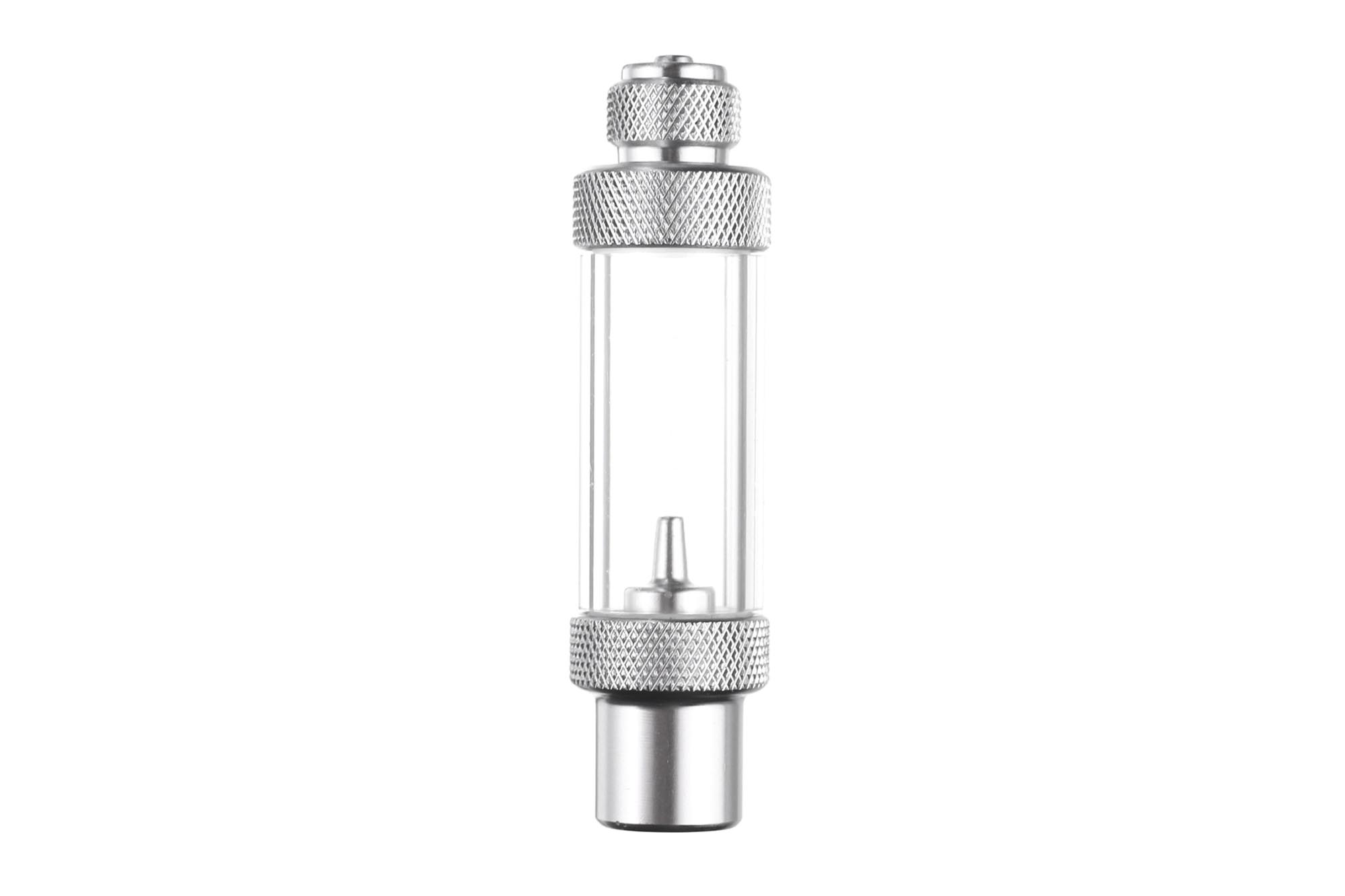 click image to view full screen
Photo Gallery